The Heckler & Koch HK45 series of pistols are considered by some to be the best 45 autos ever made. The HK45 is legendary for its reliabliity and its accuracy. With input from experts such as Larry Vickers and Ken Hackathorn, the HK45 was designed to give people everything they need for a full size fighting pistol.
In late 2012, HK showed us the new Flat Dark Earth and OD green colored frame models they were bringing out. After handling the guns, it was noted that the only thing that would make them better was to have a matching slide color. With our past success with Flat Dark Earth colored guns, we asked if we could do a full FDE HK45. After HK's extensive testing of various finishes, Cerakote was chosen after passing all of their rigid requirements.
For those not familiar with Cerakote, it is a ceramic based finish that is extremely durable and corrosion resistant. It has quickly become the go-to finish for hard use guns. This version is the standard model and features a standard non threaded barrel and Luminova sights. The Luminova sights glow once they are exposed to a direct light source. The trigger is the standard V1 Double Action / Single Action setup, allowing you to carry it hammer down or cocked and locked.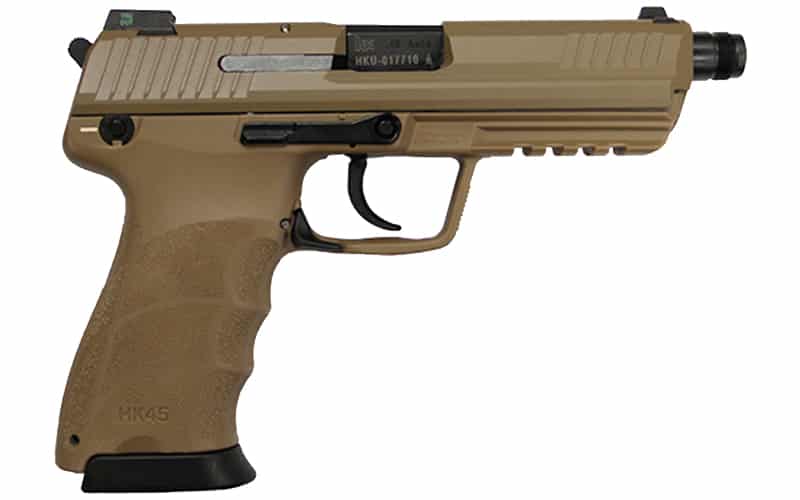 If you are wanting a 45 auto that is second to none in reliablility and is extremely accurate, the HK45 is the gun for you. If you want it to have the best finish available and have it in Flat Dark Earth, then the Lipsey's Exclusve HK45 Full FDE is the perfect choice.
CERTIFICATE OF AUTHENTICITY
LIPSEY'S MODEL: HK745001TLIP-A5 | 4.53″ Barrel | Flat Dark Earth Polymer Frame | 45 ACP | Threaded Barrel
Manufacturer Model: 745001TLIP-A5