Baton Rouge, La.—Lipsey's, a nationally renowned firearms distributor, continues to make advances with the creation of its proprietary Google Chrome Extension.
A simple search for "Lipsey's" in the Chrome Web Store will unveil an all new extension that features a minified website designed to streamline the purchasing and account management experience for Lipsey's dealers. Most notably, dealers can conveniently search Lipsey's catalog without switching browser windows or tabs.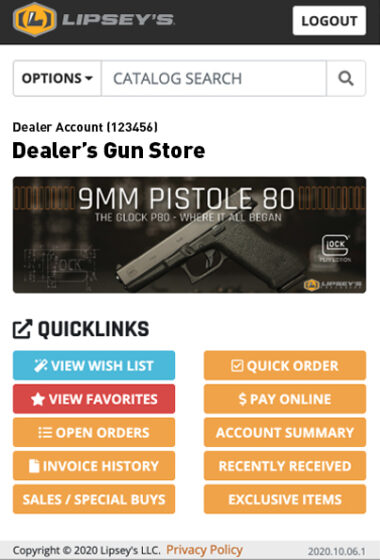 The first of its kind in firearms distribution, the extension was developed exclusively for Lipsey's dealers to maximize time, productivity, and convenience in a simplistic form. Like other Google Chrome Extensions, the install takes seconds followed with "pinning" to your Chrome Browser for easy access.
The extension was designed by Lipsey's talented development team led by Aaron Keating, Lipsey's Vice President of Technology and Chief Information Officer. "We're always working on new ways to streamline the experience for our dealers and provide tools to make them more successful. Our new Chrome extension is built to save dealers' time allowing them to focus on running their business."
Plans are in place to develop extensions for other browsers in the future. You can find the extension by clicking here.
Located in Baton Rouge, Lipsey's formed initially as a wholesale hunting and fishing distributor in 1953. Today, Lipsey's is one of the largest independently owned firearms distributors in the country, offering a full catalog of firearms, NFA items, and accessories. With a committed focus on relationships, Lipsey's provides value to federally licensed dealers and the industry's top manufacturers. The "AIM HIGHER" company motto focuses on innovative product development, distribution, and dedication to family, community, and industry.