Baton Rouge, La.—Lipsey's, the nation's premier firearms distributor, has unveiled the new Lipsey's Exclusive GLOCK P80. A historical reproduction of the original, innovative GLOCK pistol adopted by the Austrian Army in 1982.
In 1981, Gaston Glock assembled a team of engineers and designed his first firearm. The result was submitted to the Austrian Army pistol trials and won the contract in 1982. The Army then designated the first GLOCK as the Pistole 80. These guns were later known commercially as "G17s" and were only available in the US market for two years until the "Gen2" model was introduced in 1988. P80 marked GLOCKs were never imported into the United States.
After its American debut as the GLOCK 17 in 1986, the simple, yet proven, mechanics and materials have remained mainly the same. The original P80 and Gen1 G17 featured non-railed frames with no finger grooves and wrap around pebble grain texturing. Lipsey's worked with GLOCK to recreate the Gen1 single pin frame and the original flat extractor. The P80 markings are the same font used in 1982. The classic "Tupperware" style container was also re-manufactured for this edition. Each GLOCK P80 includes a commemorative overbox and certificate of authenticity.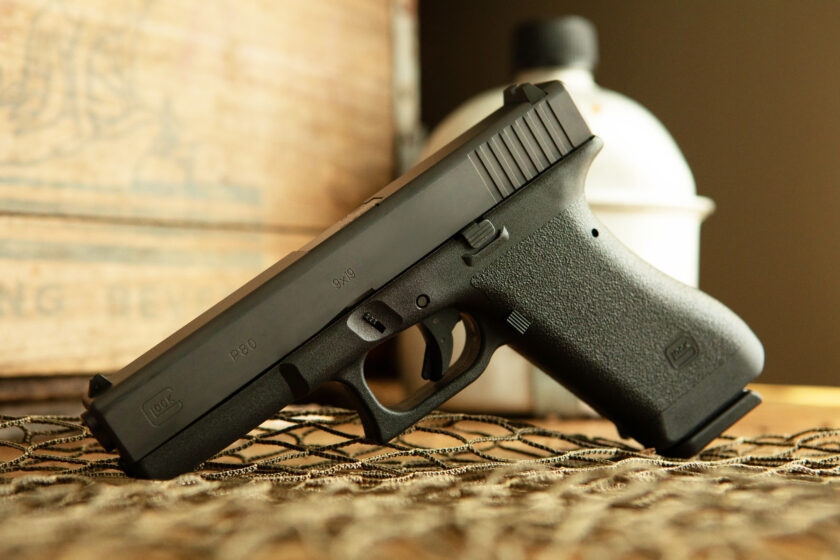 The new Lipsey's Exclusive GLOCK P80 was developed to allow modern GLOCK enthusiasts to acquire a piece of the company's unique history. The concept began with Jason Cloessner, Lipsey's Vice President & Product Development Manager, who initiated the collaboration with GLOCK some three years ago. "I have always wanted to do a retro GLOCK pistol. GLOCK took painstaking measures to recreate the original frames and packaging to make this P80 edition as close to the original as we could get. Not only is this edition a great shooter, but it also helps tell the amazing story of how GLOCK came to be."
Bob Radecki, GLOCK, Inc. National Sales Manager was an instrumental partner in bringing this throwback concept to life. "GLOCK, in conjunction with Lipsey's, is very pleased to commemorate the adoption of the GLOCK P80 by the Austrian Army with a recreation inspired by the original GLOCK Pistole 80. The P80 was GLOCK's first pistol and was the catalyst that led to the introduction of the G17, which revolutionized the pistol market and launched GLOCK as the pistol manufacturer trusted around the globe for over 30 years."
You can access GLOCK P80 technical specs and information here: Lipsey's GLOCK P80
Located in Baton Rouge, Lipsey's formed initially as a wholesale hunting and fishing distributor in 1953. Today, Lipsey's is one of the largest independently owned firearms distributors in the country, offering a full catalog of firearms, NFA items, and accessories. With a committed focus on relationships, Lipsey's provides value to federally licensed dealers and the industry's top manufacturers. The "AIM HIGHER" company motto focuses on innovative product development, distribution, and dedication to family, community, and industry.